Custom Antler Pendant Lighting
Small whitetail antler pendant light with three antlers. Perfect alone or in a small group of three pendants for your entrance, or over a bar. This pendant can also be made with mule deer antlers.
Price: $275.00
Mule Deer Antler Pendant
Small mule deer antler pendant light with three mule deer antlers.

Caribou Antler Pendant
For your larger entry, our caribou antler pendant is a single bull caribou antler.
Price: $650

Elk Antler Pendant
Single elk antler pendant light
Price: $650
"Mini Starburst" Chandelier
A smaller version of the "Starburst" Chandelier. This sphere shaped whitetail antler light has 3 lights. Diameter between 24-30. This light is a perfect accent piece or pendant for your smaller spaces.
$1750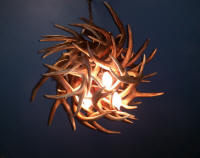 "Snowhawk"
Single Moose Antler Light
A single moose antler light with five lights. Light bases are made from copper.
Price: $750



Return to Antler Chandeliers and Lighting