Aaron and I both grew up in Montana in the Flathead Valley. We have mostly been in Alaska since 2002. We eloped here in March of '02 and were married on Point Worenzoff, overlooking the Cook Inlet in Anchorage, at sunset.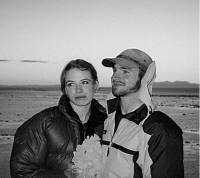 It was perfect, saying our vows in blue jeans and winter coats, of course getting the rings on was a challenge as our hands were nearly numb from the biting cold.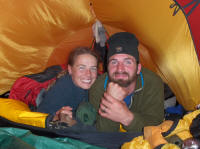 After spending a week exploring this great state, we decided once I graduated from nursing school in Oregon that we would make Alaska our home.
I graduated from nursing school June 6, 2002. We packed everything we owned in a Uhaul and embarked on the long drive up the Alaska Highway. I started work at Alaska Regional Hospital on their Cardiovascular unit. We stayed in Alaska for four years and then moved back home to Montana. We were only there for two years before we decided we missed Alaska too much. So we moved back and built a home in Bear Valley. Our long term goal is to find a way to live between Montana and Alaska.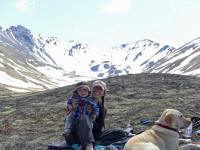 We welcomed Luke Aaron Bork into our family on August 24, 2011. What an amazing ride parenthood is...We have adjusted our lifestyle, but we have taken Luke on backcountry camping trips, fishing for salmon, and many days of hiking. He is a trooper and enjoys the outdoors. What a blessing he is to our lives! We added to the chaos again, welcoming Hannah Claire Bork on June 17, 2013. God blessed us a third time June 26, 2015 with our surprise little girl Heidi Jill Bork. Life is certainly busy with three littles! We are enjoying raising them in the woods and look forward to sharing Alaska with them as much as we can!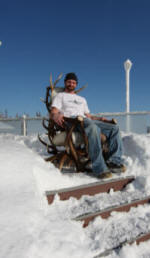 Aaron and I moved home to Somers, MT (near Kalispell) in the summer of 2013 a month after Hannah was born. We are working on living 6 months in MT and 6 months in AK. All our family is in MT and as much as we LOVE Alaska we are trying to do what is right for our children for now. We think family is about the most important thing. It has been a very hard transition and we still find ourselves missing Alaska daily. We will likely move back one day.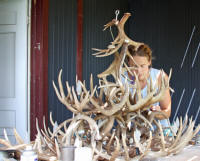 Aaron started doing scrimshaw in 2002 and has grown steadily with talent. He primarily scrimshaws on antler, but is has started to do some work on mammoth ivory. We are very fond of antlers and found we were accumulating quite a few. Aaron began designing antler furniture and antler chandeliers. He is a natural craftsman and I am forever amazed by what he visions and creates from those visions.
We are looking forward with anticipation to this next chapter in our lives. Alaska if full of great adventures and opportunities. We hope we can share more stories from this great journey we are on.
God Bless!