Alaska Spring Hiking and Camping 2012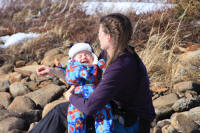 This is the LIFE! Yay for warmer weather, sun, and hot coffee!!! We never get to sit and make coffee on our hikes in the winter since it's too darn cold. Thankful for Spring and this simple joy! OOOhhh....and not having to wear snowshoes!!! Of course it isn't always easy and it isn't always smiles with a little one!!!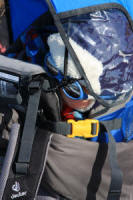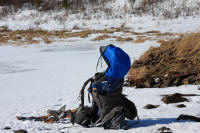 The new ride!!! We finally upgraded Luke's travel system to a backpack. He's around 24 pounds now and with the warmer temperatures it was time to move him to a front facing position. I'll admit it is nice to see my feet again! I have a little rearview mirror so I can check on him. It took him a day to get used to the new system, but I think he really likes it! We got the Deuter and find the sun cover and rain cover very helpful when it comes to nap time. Without the rain cover his head bobs from side to side and his naps are short. The pack is pretty comfortable, though they could beef up the straps a bit for more comfort.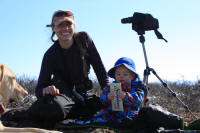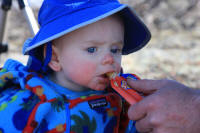 Life is full of changes lately. Luke can sit by himself without falling over and he's eating big boy food. It is nice to feed him something other than milk. The little squeeze foods are great for backpacking. Noooo we didn't let him eat that chocolate, but he was sure thinking about it!
These two pictures are precious to me. Living and sharing our lives with Luke is pure joy! I love this kid! Now it certainly isn't always roses when we are out adventuring, but for the most part he is a trooper...
Dear Kodi....we said goodbye on April 24, 2012 to our old Pal...this was his last picture! We miss him dearly!!! He was a very very special dog, pretty big paws to fill! Love you to the moon and back Kodi!

Dry ground!!! So much new stuff to explore these days. Luke is pleased to be able to get out and do a little of his own exploring...rocks, grass, tundra, moose poop...you name it, it's fascinating!
Hiking this time of year only brings one big challenge...avoiding bears. That isn't totally possible, but we did pretty good this spring. We only saw a handful of brown bears, and all were at a distance. We saw plenty of fresh bear digs and fresh tracks to make me nervous though.

We seriously have so much fun! Sharing the outdoors with Luke is a blast, and he is a great travel companion most of the time. The warmer weather is definitely appreciated, and try ground to explore is even better. We all can use a break sometimes.

Love this kid.
Love these squeeze foods! They are a hit for Luke and make long day hikes easier. Plenty of breaks for snacks and lots of loves!
We take him everywhere...this was a pretty decent climb for me, I was tired packing him up the chute, but I'm always up for a good workout. It was chilly and started snowing on us at the top. Luke just goes with the flow!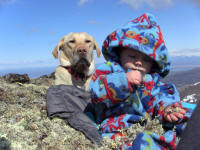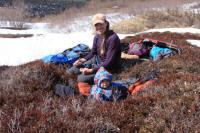 I am so thankful this kid doesn't put everything in his mouth. I love that he enjoys exploring with his hands, but he doesn't feel the need to continuing the exploring by putting the lichen or rocks in his mouth. The days of minimalist hiking are over...it's a yard sale out here.
First Spring Camping Trip
Luke is pretty excited about his first camping trip ever! We backpacked him and all our gear in for a two night backcountry trip. Needless to say this Mom is a little nervous with camping in bear country with a 10 month old.
He did an amazing job. Nothing like spending the better part of a 12 hour day in a backpack. I guess he enjoyed the scenery and fresh air.

Backcountry camping is even better with two furry friends, and a bunch of baby toys.
Camp life is easy with Luke. He isn't crawling much yet, so he isn't getting into everything. Diaper changes by the fire since it was in the 30s at night.
One problem with camping in Alaska...it's day light at 4am, so we were at 530 with Luke...he only let us hang out in the tent so long before we had to get out. You can see someone is ready for a nap though.


And this is where Luke finally learned to crawl forward. He had backward perfected, but on our camping trip he started finally going forward. It must have been all the things in the dirt that motivated him to move.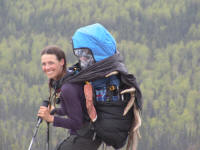 I was so thankful we didn't have this weather until we were almost to the truck. Thankful for raincovers and hardy babies. This was a rough load to carry, but well worth it!

So thankful for the memories! This little guy is the best companion! Sure he makes a lot of noise sometimes, but for the most part he has a great time on our adventures. Sunglass time, which he tolerates amazingly well.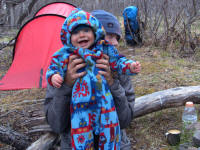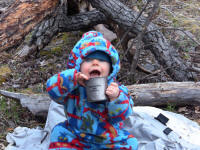 It just gets better and better. This trip was when Luke was almost 10 months old. We did another backcountry camping trip! Boy is born to be in the woods!
We put in lots of miles on this trip. Hike a couple hours and then take breaks for Luke to explore. As he gets older he is still very content in the backpack.
We discovered all sorts of treasures this trip and lost a few. Saw a few wolverines, and lost a nice Mountain Hardwear jacket. Long days of light make for endless hiking opportunities.
I was still nursing Luke at this time which made it easy to keep him happy if he woke up at night. Little guy slept in a Northface down onesie since he didn't like being under our sleeping bags.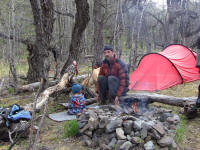 With Luke...I think about bears that much more. A bear fence offers an amazing peace of mind when camping for a mere 3 lbs of added weight.