Alaska Living and Outdoor Adventures 2012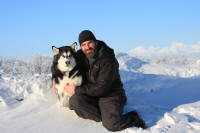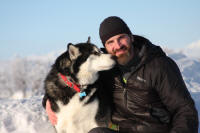 2012 started out with way too much snow. You can see pictures of the ridiculous piles of snow on our winter hiking page. We holed up for the most part and enjoyed the time with Luke. We received a bummer diagnosis in February when a biopsy came back from our malamute Tundra indicating she had hemangiosarcoma. The place they did the biopsy failed to stop bleeding and we found ourselves applying compression dressings for nearly a week. Our vet indicated that this type of cancer is generally fatal and surgery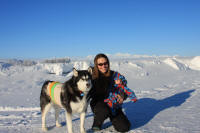 to remove the tumor may be futile anyway. The problem was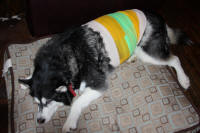 whether or not they could get the tumor removed and the bleeding stopped. We were blown away by the prognosis. I was not prepared to loose two malamutes as Kodi was going down hill quickly too. We decided to take a trip north with Tundra in case it was her last trip to the cabin. We failed to get to the cabin though. When we arrived and began our hike in, Kodi collapsed about 100 feet from the truck. He couldn't walk in the deep and squirrely snow. We ended up finding a cabin in town that allowed dogs and had a stay over there. It was bitter sweet.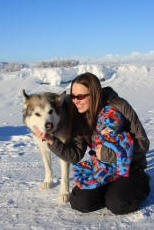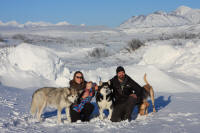 Tundra has always been "Aaron's girl" and Kodi has always been "my dog". Malamutes are very special dogs...they sure grow on a person. We took lots of pictures not sure if this was our last time with Tundra.
We got back home and schedule surgery. It was either that or weekly dressing changes and continuous bleeding. We took her McDonald's the night before surgery and had a slumber party with her upstairs.
She made it through surgery just fine. They removed a large area all the way around the tumor and the vet was confident it wouldn't bleed. Praise the Lord!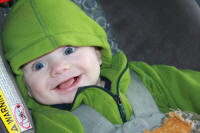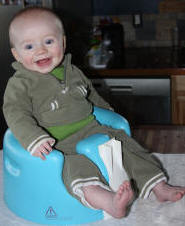 Luke is growing like a weed! He's able to sit up these days and will stand if he's supported. He is a constant source of laughs and smiles.
We decided to attempt another cabin trip with Kodi, this time with plans to pack him down a trail in the cabin and use a sled if need be. It's about a half mile walk in with one steep climb.
We did lots of trips in and out and then went out to get him from the truck. It was a long slow walk, but he made it. Aaron had to guide him along and lift his back end up a few times when he lost balance. It is so hard to see our magnificent Kodi growing old. I was prepared and brought lots of pain pills and muscle relaxants for him. I think he was happy to be at the cabin, and just be included on our trip.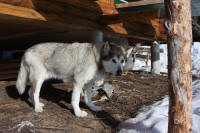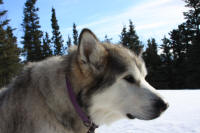 The leg he had surgery on last spring has gotten progressively worse since Christmas. We often wonder how he would have aged if we hadn't broken that leg. I can't imagine life without this old boy! He is 12 years old now.
Tundra is recovering well. We waited long enough that she wasn't on activity restrictions. The vet warned us that with this cancer it usually is internal and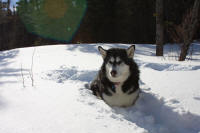 dogs just fall over dead once they hemorrhage.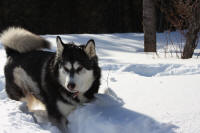 We don't know if she has a primary internal cancer, so we are just enjoying her daily. I'm amazed how she likes to lay around in the snow with her bare belly. They were very generous in shaving her for surgery!
The cabin was spared from the snow this winter either. It was deep deep deep! Sometimes the interior gets less snow than Southcentral AK, but we all got a generous amount this year.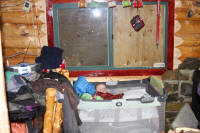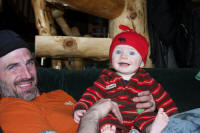 Luke did great at the cabin. We put his pack and play right next to the woodstove to make sure he was warm enough at night but not baking like he could be in the loft. He's pretty flexible so far in regards to his schedule.

Our drive home was incredible. These pictures were taken near Matanuska Glacier. ...and no I did not plan to have matching coats with Luke. Patagonia makes a pretty darn nice little puff jacket for infants though.

Life is good when you are SO loved!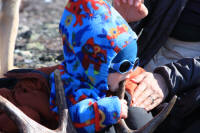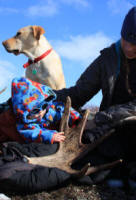 An antler man in the making!!! Luke loves antlers! He's discovered they make great teethers!!! Nice to be out with less layers these days, sure is easier to not have to worry so much about whether or not Luke is too hot or too cold!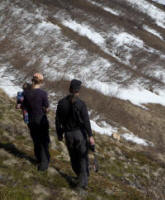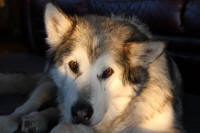 April 24, 2012
Sad Sad Day!!!
Said Goodbye to our very best doggie friend Kodi! After 12.5 years of adventure and lots of love we had to let him go! Never an easy decision to make, but it was definitely the right thing to do! We celebrated his life with an afternoon hike into some of his old stomping grounds! XOXO Love you Kodi!
July 2012- Fishing with a baby!
Ahhh... Summertime in Alaska = fishing season. Love having great friends that are old pros at fishing for those of us that haven't quite figured out how to be pros.
Obviously we aren't too worried about bears...Luke scouting for treats in the tent.
I'll be the first to admit that I'm not much of a fisher woman...I'd rather be in the woods most of the time, except in the summer in AK. Salmon fishing is a hoot! It has rhythm, it's relaxing, and thrilling at the same time, and there is nothing better than bringing home well over a years supply of salmon to the feed the family. Luke did remarkable well this trip. He enjoyed the backpack and all the fishing action, and slept when things slowed down. I had a few fellows near my laughing as I sang many many songs to him to keep him entertained.
I was always a little worried that when I'd lose a salmon, the hook might fly back and hit Luke...thankfully I didn't have to deal with that.
Just the beginning...by the end of the run we hooked and harvested more than 40 red salmon. Pretty productive and certainly enjoyable!
Filleting fish on the shore or on filleting tables. It's a work of art....Aaron got pretty good at it after doing it 40+ times.
We fish in the rain and in the dark. Endless hours of fishing in the summertime!



Great memories!
Now the work begins. Assembly line processing at camp. Clean, cut, and vacuum seal, then flash freeze. Super fun when we all help out...and we were rewarded with delicious pizza!

My Brother Jeremy BBQing up some delicious salmon bellies. The best part of the salmon and delish!
The summer fishing crew! Great memories with these folks.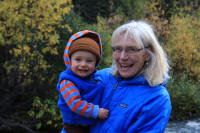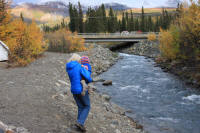 September 2012

Grandma's here!!!!! We are so blessed to have a Grandma that is willing to fly up from Montana to do a little babysitting so Aaron and I could try and hunt a special permit I drew this season!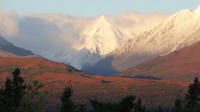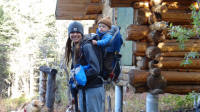 Our original plan was a bust so we ended up going on a trip to the cabin...BEST TIME OF YEAR in ALASKA! I'm biased, but I love the colors in the fall and the smell... there is a certain energy that beats through Alaska during hunting season and in preparation for winter.

Even though we weren't hunting we were enjoying the outdoors! Always fun to share all Alaska has to offer with Grandma. She's usually game for some hiking adventures!
Filling the freezer!!!! September 2012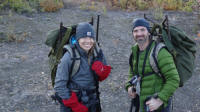 Not used to having a photographer....my mom! The morning start...we don't look like hunters LOL. We are sort of simple, no fancy hunting backs. Aaron actually sewed one to go on his external frame that that is super light, but we decided the sea bags would be better if we actually had to haul meat. Fresh and ready to hike!
The trip was BLESSED! Our original plans fell through, and on a whim I asked a friend for tips in an area we weren't familiar with! The weather was terrible except for this SMALL window! The day started out early and beautiful! Five mile hike in and we were just planning on a one day outing...so if we were gonna shoot anything it had to be early.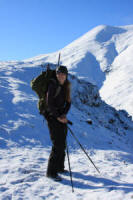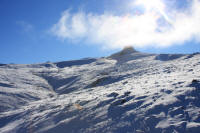 It was an amazing day! We busted through the low country and trees, broke out into the open and followed a ridgeline back and up until we were in the newly fallen snow from the night before. It was amazing hiking for once without having to worry about Luke on my back!
When we broke out on the open bench above we spotted a few groups of caribou. We also saw a couple wolves harassing one of the larger groups. We simply enjoyed the moment. I was pretty sure this was just going to be a hiking trip, not sure if I was ready to commit to the work of packing a bull out. We belly crawled out on a knob to watch a large group. We decided get a head of them and see if we could spot any bulls worth shooting.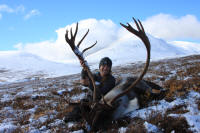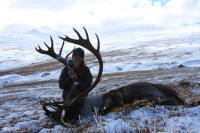 The caribou were squirrelly from the wolves and probably from winding us. We managed to get pretty close if they would have only stayed on the course they were following, but rather they changed directions. By this time we'd singled out a nice large bull in the group, but he was 300 yards away. I was poised and ready, still not committed in my head for the work if I pulled the trigger...but I took a deep breath and committed us! Happily!!!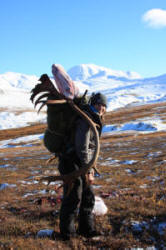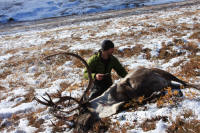 We didn't sit around for long, it was 1pm and we had to bone the bull out and get a heavy load of meat back to the truck before dark. We skinned one side and started the process of boning him out. After we finished the first side and flipped him over to bone out the other side, I started hauling loads of meat about a mile from the kill. I did about 3 loads and by the time I finished Aaron was finishing up the last details. I insisted on moving the skull and antlers and a small load of meat up the pile I'd moved already. In Alaska you can't take your antlers out until all the meat is out, so we'd be leaving them until we could pick them up the next morning.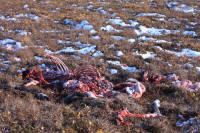 And this is what a boned out caribou looks like. It's amazing how much meat are on these guys! Not much left over for the critters! I was a bit nervous to leave the rest of the meat and the antlers behind since we spotted a coyote about 100 yards from the meat pile. Luckily there was a pretty stiff wind to scattered the smell.
It was a brutal hike down...mostly downhill with heavy loads. My legs were not used the taxing activity, but I loved it! Mom was super excited back at the truck...she couldn't even believe it when I told her we had actually harvested a bull! She loves hunting, so she was just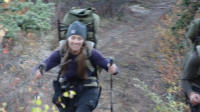 as excited to be a part of it,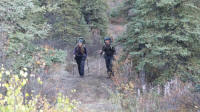 as if she had been with us. She captured these end of day shots...our hip flexers and quads were screaming and feet were burning, but hearts were soaring!
Now for a quick rest, and then back at first light to get the last load of meat and the antlers!
The next morning was beautiful but windy! We were elated to find everything just as we left it. Legs were sore, but the excitement fueled us!
Packing a caribou rack is cumbersome, but not as bad as carrying a moose rack! I insisted on carrying the rack plus a small load of meat. I treasured the moments and soaked up the walk out! Something amazing about being successful when you put the work in!
A successful trip...home safe with a supply of caribou meat to enjoy!
Denali Highway Lottery September 2012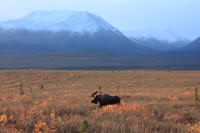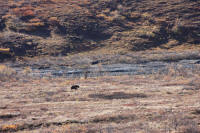 Aaron and I totally lucked out this year and were one of the winners of the Denali lottery. We were excited to spend a day driving the road that usually is restricted to buses only. We drove up to Denali, stayed at a cabin and were at the gait by about 7am. Some locals we spotted along the way!

The views are endless...this is BIG country in every direction!
Near Mirror Lake, we took a long break. It's a long day in the truck for a 1 year old. We needed to stretch our legs and kick back.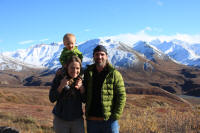 It's an amazing drive...long. Wound have been more fun to spend more time out hiking and stretching our legs, but we wanted to drive the entire road. Very long day for all of us...then we drove all the way back to Anchorage. Luke is a trooper!
Fall and Winter Hiking Adventures 2012

Yes...and winter is upon us....September snows. Quick to melt, but reminding us that it is indeed that time of year again. Keeping Luke warm now will be my new focus. It was easier when he was snug against my body.
My favorite hike...right out our back door. We walk this right from our house. It's easy to take where we live for granted.
Nothing like carrying 35+ lbs all the time on my back. I enjoy the challenge though.

A happy dog! We found snow and he loves running and sliding on it. Silly Jarvis!

Diaper duty on the top of a mountain...no big deal. Luke's gotten pretty used to this I figure.
He loves his buddy Jarvis, and Jarvis loves him back, especially since Luke feeds him goldfish snacks!
Jarvis is always close by...Luke exploring the tundra. Thankful he isn't so ambitious up here to be crawling or walking around.
Savoring the last few hikes of the fall before snow sets in for good. An amazing day spent above the fog.



This ridge is pretty interesting. It looks worse than it is, but never the less it is pretty steep and rocky. A few spots I had to sit to get down with Luke on my back.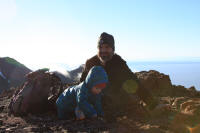 A full day of hiking with a 1 year old is possible. We just take lots of breaks in between our longer periods of hiking. If he gets to do some exploring he's pretty happy!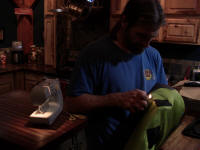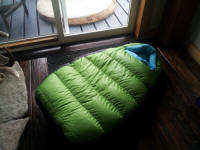 The newest project. We have to make hiking with Luke realistic, and winter cold weather makes it a bit stressful. So we created a down backpack cover. We cut a northface 0 degree down bag in half and sewed a foot bed of down covered by durable material to prevent tearing on rocks. We still bundle him up under the down, but his feet are just in socks and they are always toasty. Just a peek-a-boo face for the cold to bite.

Luke seems to like the warm cocoon he is in, and certainly enjoy the peace of mind.
Aaron and I did more solo hiking this season. One of my days out the backdoor in Bear Valley with Jarvis. The wind makes for the best hard pack conditions and dry ridges.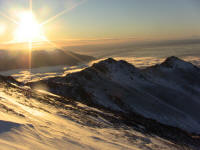 Hiking above the fog in Anchorage.
Luke is sure growing up...Happy boy!
And...we are expecting #2 in June of 2013.