Alaska Outdoors 2010
We couldn't take much time for hunting this year since we were on a deadline with the house project. We originally thought that my four days off would be enough to try and get a moose. But once you do the math...if we shoot something more than 2 miles from the road, which we usually do, then it will take us at least two days to pack the moose and camp out. We don't usually have a trail, and we don't have any machines...so it's up to the legs. The driving takes a day or so...so that doesn't leave much time to hunt.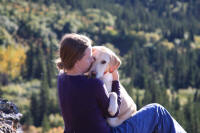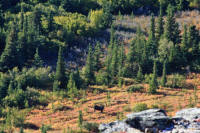 We decided if the opportunity presented itself, we'd try and take a meat bull for the year. We spotted this guy but; for the life of us we couldn't make him 50" wide, close, but maybe not quite. He only had two brows on each side.
This was our first attempt at hunting. Jarvis got to tag along.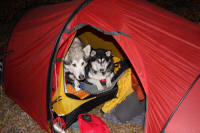 Attempt #2 ended much the same...this time we decided the more time we could spend in prime moose country the better. We took the whole family (all three dogs) and camped out for a night. It's always a challenge with the malamutes, but I kept them busy while Aaron did a lot of glassing. We saw the same ???legal bull and a few smaller bulls. It was a beautiful night regardless; oh so nice to get away from the house project.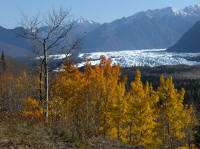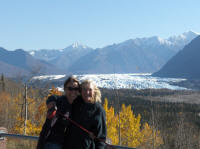 My mom came to visit during second to last week of September. The colors were just glorious around Anchorage, but the further north we went the less brilliant they were. The Matanuska Glacier in fall is glorious.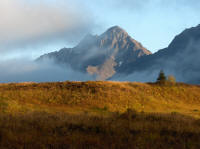 Powerline pass in the fall. The lively place of moose rut activity. Winter is in the air...our favorite time of year.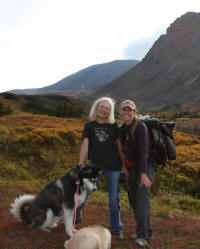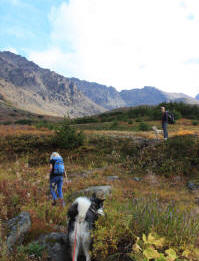 My mom is a trooper. We took her 13+ miles and she was ready to go further. I was so happy we had lovely weather to explore the Chugach Mountains in. The summer of 2010 was less than exciting with all the rain. Nothing like an indian summer.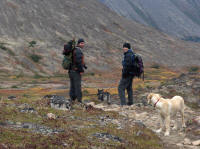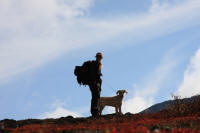 This was the longest hike Jarvis has been on so far. He did fantastic. Big difference between labs and malamutes. He has SO much energy.
Our halfway point.
Coffee time. Nothing beats some warm drinks when it's chilly out.
Jarvis was tired. He fell asleep instantly on mom's lap. Nothing like a little heater on the mountain.
This was the first time in two years I'd seen my mom. Weeks like this make me wonder about living this far away from home.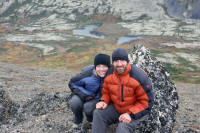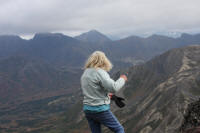 Love him...

I think Mom is dancing
a jig to warm up.

Love the kids too. Kodi couldn't make this trip...too many miles for the old man.
Another evening hike. Coffee and sunset watching. The alpine glow on the already colorful hillsides is glorious this time of year.
Found this nice bull hanging out with some cows. He wasn't too thrilled to have us encroaching on his territory.
The last hike before Mom headed back home to Montana. Ryan and Jago met up with us for some exploring.
Enjoying a snack of high bush blueberries in the presence of unseen bears. Jarvis has become an efficient blueberry vacuum.

Pathetic dog. Apparently I'm a sucker. This didn't last long.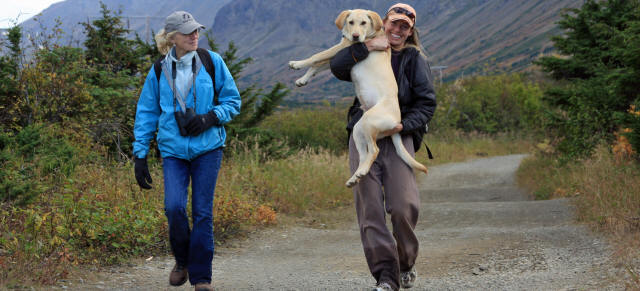 Neighborhood visitors!
And then there was Jarvis!!! You can see more about his puppyhood on our Jarvis Page.
It's a rough life being a yellow dog among big hairy malamutes! Looks like he has it bad huh?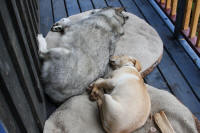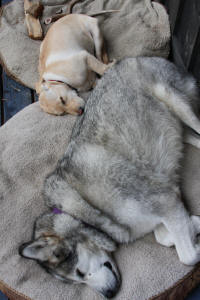 Real rough...
Love moments like these!
An epic trip with our good friend Ryan into the backcountry. Some serious elevation brought amazing views.
Many miles of walking in these boots!!! They haven't failed me yet!
Camping! Definitely one of my favorite things!
A long rest break after a morning of hiking. Tundra digs the snow!
Kodi is pretty amazing. Unfortunately his age is starting to show and we see soon we'll have to leave him behind. He really wants to go, but it's heart breaking to see him hurt after long adventures. He has been the best companion for a lot of years now. I'll miss his bear awareness on these spring hikes.
Winters in Alaska are LONG...it is so enjoyable to have dry ground to hike on and more hours of light than we know what to do with!

View from the Tower
Don't think we ever get tired of this...we are so incredibly blessed to live where we do! I am constantly reminded of just how amazing our Creator is!

A February trip to the cabin with temperatures well below zero. Enjoying hikes with Kodi, and of course I had to get a picture of the infamous ice beard. It's amazing how cold it can be and one can still be outside enjoying the day.