Our Alaska Malamutes
We've been the proud parents of two Alaska malamutes for years now. We adopted Kodi in 2003 right before his fourth birthday, and we rescued Tundra in 2005 at just 10 weeks of age. They have been wonderful companions. Malamutes are so faithful, they love snuggling, they shed like crazy, love to chase anything that moves, don't mind it when it's well below zero, and are super photogenic.
Tundra enjoying some winter hiking.
2010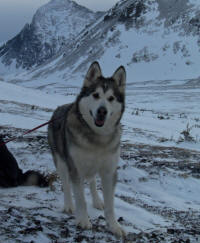 Old man Kodi on his 10th Birthday, December 24, 2009.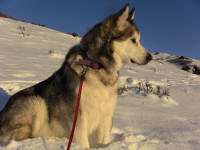 Kodi on his 11th Birthday!
Pretty Mals...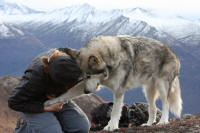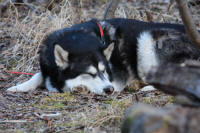 Kodi getting some love after a long hike. His age is starting to show on our walks.

Tundra taking a break after a long hike.
Winter Malamutes....in a snow cave to get out of the wind.

Kodi seems pretty comfortable despite the constant winds and the blanket of snow.

Tundra enjoying an evening on the deck of the new house.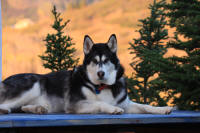 August 2008
Ahh...to be back in Alaska. I know Kodi and Tundra are loving the cool temperatures. We spent the night on the beach down in Homer.

Some serious Malamute play up near our cabin. The dogs were playing fetch for sticks.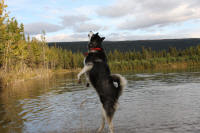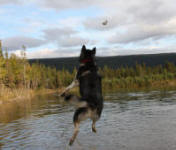 We knew Tundra could jump, but she was impressive lifting all of her little round self out of the water.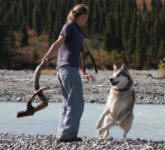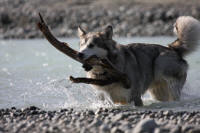 Kodi has been in love with water ever since he literally caught fish once in a stream with spawning salmon. Now he is convinced that sticks are salmon, so he is easily entertained for hours on the river playing fetch.
July 2008
A warm day on Flathead Lake. Kodi and Tundra are SO ready to get back to the north country. Heading back to Alaska around the 1st of August.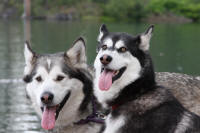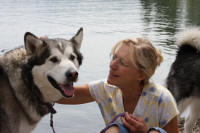 Grandma will miss her dogs for sure. The dogs ran to the door every time we mentioned "Grandma"....Funny, how my mom used to be so scared of Kodi. She brought a sandwich all the way from Seattle on the plane the first time she met Kodi, just to make sure he liked her. I think she'll miss the dogs more than me!
October 2007
Kodi hanging out with me while I work on building front porch! He's almost 8 years old....still acts like a puppy, but can sure act like an old man!
Tundra gets in on the action, posing with her new red collar in front of the red geraniums! Her looks are deceiving. She is a terror and a joy all at the same time. She has turned into quite the lover.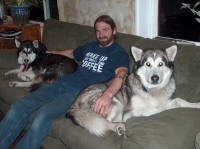 Dogs have rights to pretty much all the furniture in our house!

October 4, 2006
On our drive back to Montana; Kodi and Tundra enjoyed some scenery! Eventually we just left them in the back so they could just stretch out! Long days in the truck for these poor mals. They were real troopers though!
We stopped outside of Banff in British Columbia for some cold water fun! Kodi was in heaven in the water.

Tundra will dapple in the water, but Kodi loves fetching sticks and swimming in the current! He's our water dog!

Tundra feeling very frisky after cooling down a bit started picking on Kodi! He just puts up with her!
March 2006
I'm not sure what these dogs are doing, but I thought the moment was precious. I'm sure they were intently watching a bird or something.
February 2006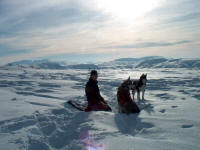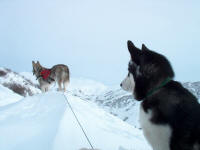 Snowshoeing up north near our cabin! We were following some trails made by caribou, hoping we might find an antler.

After a long day of hiking the dogs are beat! Tundra is just half the size of Kodi, she's just a runt!
January 22, 2006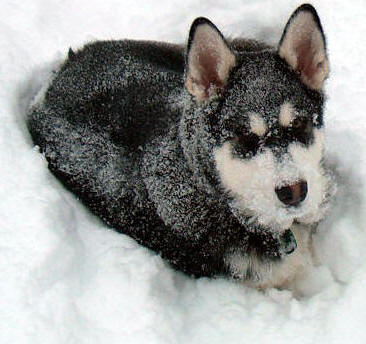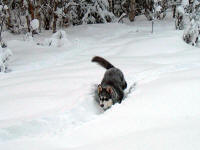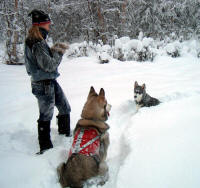 We got about 8 inches of snow last night, it is light fluffy powder! The dogs went crazy playing in the drifts. Poor Tundra still isn't quite big enough, she tries to plow through though!

The "Snow Ball"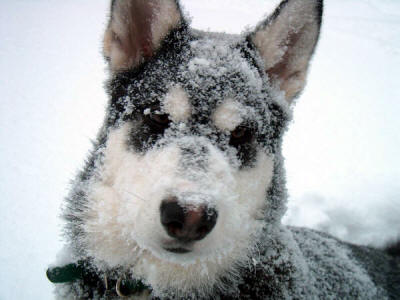 Christmas 2005
With the dogs! Tundra was our Christmas present! She is now about fourteen weeks old!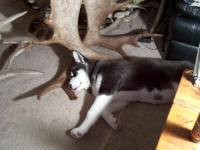 Tundra and Kodi are worn out and dreaming of shed antlers after we spent a day out tromping around the woods! It is good to have tired dogs!
November 25, 2005
Our newest addition.....Tundra. A 10 week old Alaska Malamute. She is a handful. Kodi doesn't know what to do with her yet, but is playing well so far.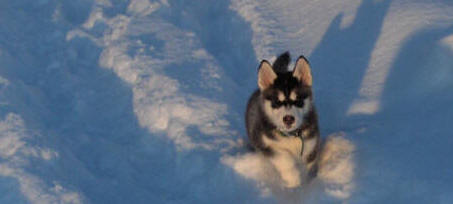 Our little monster! She looked so cute in the pictures, but for weeks we didn't sleep due to her wining, wanting to play, and then needing to go outside and pee.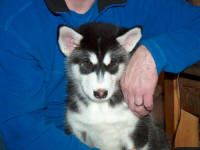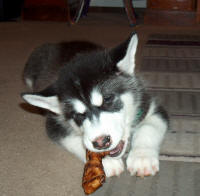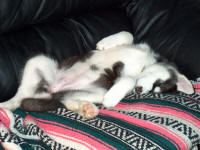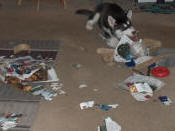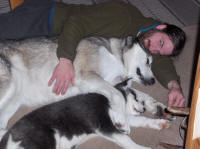 Kodi was forced into this picture. He couldn't stand her in the beginning! It was a full time babysitting job for awhile!
More babysitting! Tundra's favorite thing to do. Tear up anything and everything!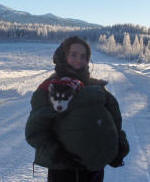 This what I call spoiled! We took her on a pretty long walk and the temps were well below zero. About halfway on the walk she started slowing down and wining at us. I picked her up in a fleece blanket and zipped her up inside my down coat! At first she was shivering, but soon we were quite warm and snuggly! Needless to say, I did have a back ache after walking three miles back to the truck with her in my coat. Lucky I don't have to carry her like that anymore!
Our first malamute, and baby, Kodi! We adopted him from a couple moving out of state. He was nearly three years old. He immediately fit right in with Aaron and I. He is about 120lbs in the summer and 140lbs in the winter! He loves to snuggle! We got Kodi in November of 2003. He has been such a wonderful companion~ extremely faithful but very independent at times!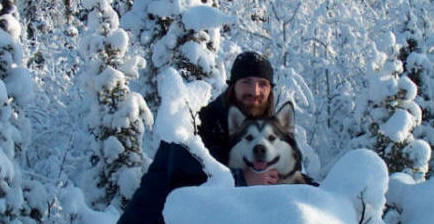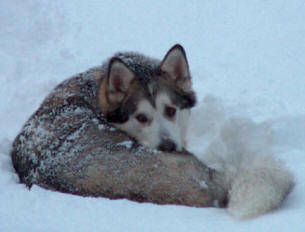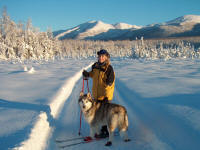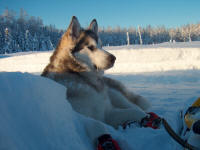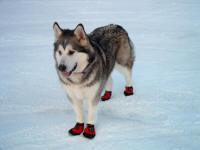 Kodi's heaven....LOTs of snow! We had a whopping year of snow in 2004, I believe approximately 105 inches. Malamutes are definitely snow dogs. Kodi had to wear his booties only when temps were below zero. The cold would make his feet crack.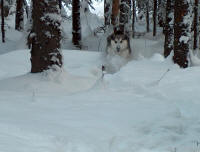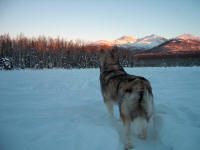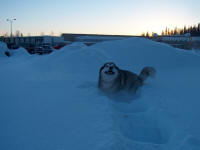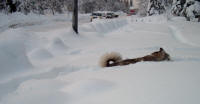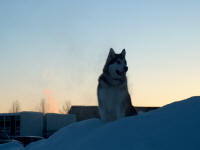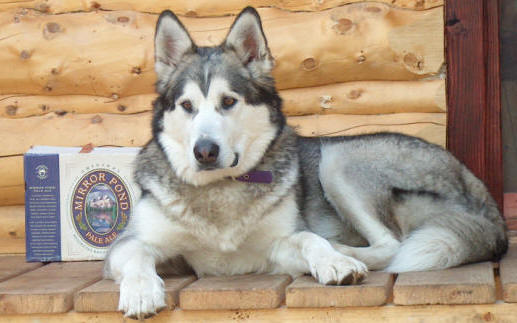 Traditionally malamutes were used for work dogs; Kodi has a life full of fun. The only work he has ever done is helping us haul our caribou meat out 15 miles in the Kenai Mountains.