Wow...this could be the most difficult page to create on our website. There is SO much to tell if you really want to know "All About Us". I considered leaving out how Aaron and I met, but it's where this whole adventure began.
Aaron and I met on July 4, 1999 at the Garden Bar in Bigfork, Montana. I was with two close friends when one of them told me that there was this really "hot" guy sitting in the corner looking our way. I turned and saw not someone just looking our way, but rather staring. I turned back around and smiled at my friends, He was cute. Somehow or another he learned my name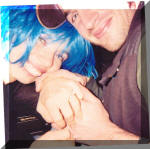 and then we started talking over beers. We spent the remaining five hours of the night sharing stories from our lives, talking about school, life in Montana, religion, and our dreams for the future. Somewhere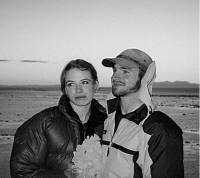 in the talking we were amazed to learn that we'd lived within 10 miles of each other for most of our childhood and teenage years. We left each other with a hug that night, and the following morning met and had lunch together before I had to head back to school in Oregon. The girls and left that afternoon and all they could say was , "You're gonna marry that man!"
And after years of occasional letters, a few phone calls, and rare encounters, I finally snagged him. Once we officially decided that we "liked" each other, it only took Aaron two months to ask the big question. I guess it's nice to know looks don't matter, he proposed when I was wearing my crazy blue wig at a little martini bar in Portland, OR.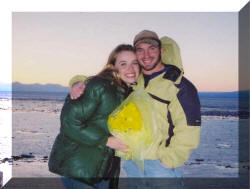 So we started dreaming of maybe moving to Alaska after I graduated from nursing school. We thought we ought to check it out, so in March of 2002 we flew to Alaska and spent ten days driving and camping in our vehicle. On the last night of our adventure, we were married on Point Worenzoff, overlooking the Cook Inlet in Anchorage, at sunset. It was perfect, saying our vows in blue jeans and winter coats, of course getting the rings on was a challenge as our hands were nearly numb from the biting cold.
I graduated from nursing school June 6, 2002, and finally we were able to be together on a regular basis, as Aaron had been living in Montana, and I in Oregon. We traveled and visited family before we embarked on the long haul up the Alaska Highway. After five days of driving, a flat tire, and miles of uninhabited land, we reached Anchorage. With no set job, we spent our days job hunting. We lived out of our tent for about three weeks while we settled into jobs and found a place to live.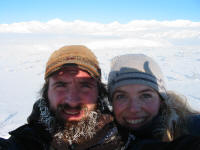 We spent four years in Anchorage. During that time we learned what areas of the state we loved and were lucky enough to purchase a piece of land in one of our favorite areas. We built a log cabin with our own logs, a little sweat, and a big dream. We documented the entire building process with photos here on the website. The cabin is remote; a place of solitude far from the city. We built the cabin over the course of one summer, and spent the next year finishing up the inside. When we weren't working at our jobs or on the cabin, we were generally planning our next hunting trip. We have been blessed to have a full freezer of moose or caribou each year we've been in Alaska.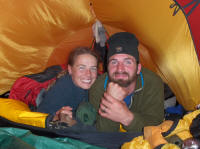 Aaron and I moved back to Montana the fall of 2006. Aaron missed Montana, so we headed home. It was really hard on me when we moved. Alaska was in my blood, and though I was born in MT, it didn't feel like home. BUT...God has a plan for us. We purchased a 100 year old home from Aaron's sister and spent a year and a half doing a complete remodel. We learned a lot about electricity, plumbing, drywall, tile, carpet, landscaping, etc. It was a great experience, but a little time consuming. Somewhere along the way, Aaron started to really miss Alaska. We were probably in Montana a year when we decided we were moving back to Alaska once we finished the house and sold it. We closed on our house August 1, 2008 selling it to a friend. We skipped the hassles of realtors, open houses, and price negotiations. Four days after we closed we were on the road to Alaska. God has had His hand in this whole process. I have absolutely no doubt in my mind that we are meant to be in Alaska and that there is a plan for us here.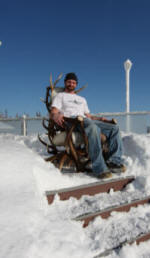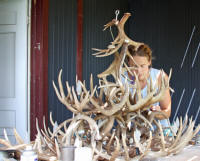 Aaron started doing scrimshaw in 2002 and has grown steadily with talent. He primarily scrimshaws on antler, but is looking forward to working with mammoth ivory. We are very fond of antlers and found we were accumulating quite a few. Aaron began designing antler furniture and antler chandeliers. He is a natural craftsman and I am forever amazed by what he visions and creates from those visions.
We are looking forward with anticipation to this next chapter in our lives. Alaska if full of great adventures and opportunities. We hope we can share more stories from this great journey we are on.
God Bless!