The Sir Kodiak
This extra large coffee table is truly impressive with four to five large moose antlers; a centerpiece for your home worthy of attention. This table displays trophy size antlers with great palm width and length, as well as defined tines along the paddle. The antlers are naturally shed. Each table is different as every antler is unique.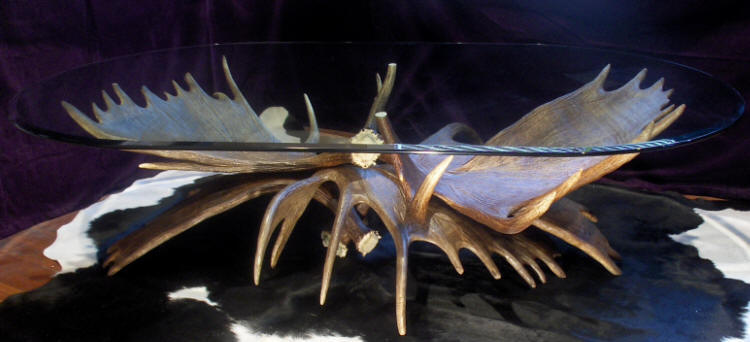 Available with or without glass.
Top diameter can vary, standard top is 42" x 72", unless otherwise specified, with a table height of approximately 19".
We offer custom edged glass with a glacier edge or a chiseled and frosted edge (pictured below) that are 1/2 inch thick. We also have a basic one inch bevel glass top as seen above. View custom glass edges here.
Prices (shipping will vary depending upon location)
Glass shipping is included in quoted price (except AK and HI)
| | |
| --- | --- |
| Without glass $2495 | |
| With one inch bevel glass $2850 | |
| With chiseled and frosted glass $3295 | |
| With glacier edge glass $3495 | |