Welcome 2015!!!!
We started the year out in the woods in below zero temperatures! Love that we have the gear and the foolishness to take Luke and Hannah out in the frigid temperatures!
Sledding and building ice caves in our backyard.
Lake exploration.
This boy...he asked for a trekking pole for Christmas and we got him one...and he uses it and is so proud when he can hike with us!




Luke finds antlers in our backyard, and Hannah eats deer poop!
Real Life!!!
There are tears, but more often there are smiles and joy upon joy! Hannah was in need of a nap, but she still insisted on holding the antler for a picture through tears and all.
Luke is clearly SO PROUD of this match set he stumbled upon with only a small amount of guidance :)
Antler lighting, remodeling a home, and toting these kids around is just the normal day to day activity.
We are so blessed! One minute we are in the deep dark forest and the next we are on this glorious beach with miles of sand to run and explore!



Luke is my growing adventurer! He loves all things numbers, buttons, lights, etc; thankfully we have incorporated the outdoors into those loves of his!
There is endless joy when outside and when together!
Big change in the future...we are so excited to meet our third babe in June this year!
Still packing the kids around but without the gusto I'm used to!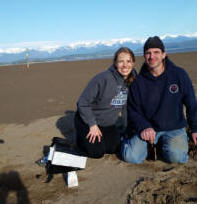 Our 13th wedding anniversary!!!
The picture on the right is from our wedding when we eloped to Alaska 13 years ago!!! Best decision of life and greatest blessing!
The north shore of Flathead Lake. We only get to enjoy it a short time when the water is low.
Luke walks more and more these days, but sometimes he needs a ride. He's a trooper, but we can put long days in the woods so a ride is reasonable!
This mama can only do this so long though now.


Hannah walks too, but she rides a lot and thankfully sleeps some too!
34 weeks and still going strong...or so I like to think. We enjoyed a hike on Mother's Day and I was blessed to find this little set that had been sitting in the woods a couple years!
Uncle Rann and Maggie came to visit. Thankful for being able to spend time with family!
TIme, where do you go! This sweet girl turned 2...She loves bubbles and balloons more than most anything! She is a delight.
Play glasses, backpacks, and bubbles...and a candid family photo.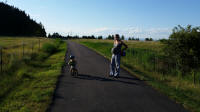 10 more days....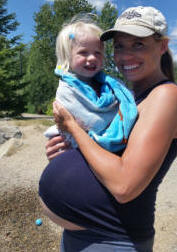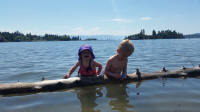 ONE MORE DAY...
Tomorrow we become a family of 5 and welcome our second little girl into the world. I'm having a C-section because of my vertebral artery dissection. It's been a long pregnancy with lots of heparin shots and C-section will be a whole new adventure for me. Excited to meet this sweet little person!
She's here!!! We welcomed little Heidi into the world on June 26. After a one sided spinal and bonus epidural she arrived via C-section, 8 lbs 11oz.
Sweet sweet sweet little girl!
My heart is exploding...love is an amazing thing. We enjoyed 3 days in the hospital with this little nugget...while Luke and Hannah played with Grandmas and Grandpas
My heart overflows....Luke and Hannah met their baby sister! So much love here, and of course fascination with electric beds and gadgets in the room too!