This girl...she hasn't spend nearly as much time in a backpack as Luke did when he was a babe, but she does pretty good! Always lots of smiles!

Hannah and her daddy!!! Montana is pretty amazing when you get out in it! I don't feel like we get enough winter here, so it is important to me to enjoy what little cold winter we get! I love clear and cold weather!
Luke still travels great!!! He was pretty much raised on me hiking!!! He can hike with me for hours without much fussing. We have lots of great talks now days! Lots to learn about in the woods!

Our kids were raised teething on antlers! Pretty organic!

This is my life now...My heart aches for remote valleys and rugged mountains in Alaska, but this is where God has us... and I am learning to be happy in it. Life is slower, more mundane, but so much more meaningful! I am responsible for these two sweet souls! What a responsibility and great blessing!


We are fortunate to live near this beach that offers endless hours of exploring, treasure hunting, and rock throwing. Spring is coming and cabin fever is upon us...
Hannah...she is full of life! I'm still trying to figure out who she looks like, but she is her own sweet person. She is full of smiles and energy. She is always moving, so when she is sick and snuggly I treasure those moments! These days are rapidly passing!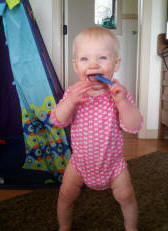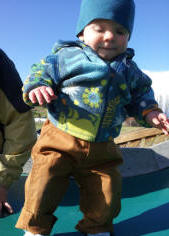 And then she stands and walks...just like that at 10 months. She has places to go I guess!
April 2014
Luke is my explorer! I love seeing him outside, where I am happiest! I love seeing his sense of adventure, but I also love having him sacked out on my back. Someday, I won't even be able to keep up with him!
We have never eaten so many hotdogs and had so many campfires. When we go to the woods and hike we have to have a fire and hotdogs...its the new expectation.
When you have a walker and don't want her in the fire...the back of the car is a great safe area!

Treasures make these hikes very special! Luke gets SO excited when we actually find antlers. We don't find many, so when we do its cause for celebration!
Snack time on the mountain!


If I can develop a love of nature and the outdoors in my kids, and an appreciation for God's creation I will be blessed! Sharing our love with those we love is a gift!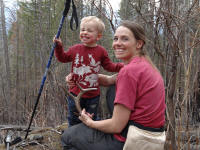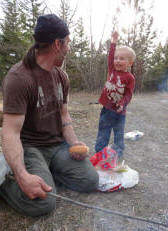 CHEESE!!!!!
These days are never easy! I capture most moments of smiles and joy, but any parent knows that the reality is breakdowns, fits, tears, and lots of hard work. When moments like these happen, it is all worth it...period!

A day in the mountains with just Hannah. It's hard hiking with Luke when it's hot and the hike is steep. Thankful for Grandma's who are willing to watch the kids when we hike. Hannah went with today because she is pretty easy and light to pack around. She loves her time out of the pack exploring all the vegetation and rocks on the ground.
Awe Alaska!!!! My heart is full! My family in Alaska! We are so so blessed to have an Alaska connection! I can't wait to raise these kids with Alaska in their blood!
So much to experience here. Cabin time is spend looking through old hunting books and magazines, and outdoor time is spent hiking this snowy cold landscape!


Lots of smiles and sleep for the miles!


For a small space, we are very happy in the cabin!!!
And then spring became winter...thankfully we were ready for the cold. Keep them warm and they will be happy!

I have no problem staying warm with these passengers!
Thank you Alaska for the cold! I love COLD.
From the north country to Homer, AK...a welcome change for all of us!
We stayed at the cabins we've have frequented for years in Homer, went to breakfast at our favorite little place, The Duncan House, and played for hours on the beach!

Hot tubs, hot dogs, and lots of lounging around!

Freedom is running on the beach! This is the true joy and laughter!
Moose's Tooth Pizza to finish the trip! We adore the Amazing Apricot Pizza!
I'm pretty sure the trip was a success and the flight home was peaceful!
May 2014
It was terribly hard coming back to Montana...but we jumped right into more outdoor adventuring. We love Forest Service cabins and kids do to!

He hikes, he rides...He loves being outside and is constantly learning on these adventures!


Hannah looks so funny walking...she is so little and yet is pretty nimble walking. She has places to go and things to do!


This life is so sweet!
When we aren't in the woods, we get to explore the beach near our home. Aaron and Luke always treasure hunting are looking for arrowheads.

And...MOST of the time, this is what our life is like. The everyday busyness of being Mom and Dad.
Once summer comes, it is too hot to do much of anything than go to the lake, or at least my cold weather loving self feels that way!
A special evening lake trip with Luke and Grandma!

And then she turned one! My bright eyed beauty.

Happy 1st Birthday Hannah
What would life be without another building project!!!!
Time to make some more room in our one bedroom house! Bring on the addition!
Family is such a blessing! We love Grandma's and Uncles!
Camping is pretty simple these days! We have so much fun going to campgrounds! It may seem dull, but it is an adventure for the kids!

ONE of the best times of the year! The woods offer an endless bounty of plump purple balls of deliciousness!!!!


Awe HUCKLEBERRIES!

We had an amazing year picking berries! I think we picked over 12 gallons. The kids were of no help but they certainly enjoyed picking their fill! There is no better place than being in the woods!
Some of our favorite things this summer!
Lots of time on the deck on our tractor,
harvesting berries in the garden....
....story time with dad
Dairy Queen....
...lots of time at the beach
and time at the library!
Building project continues. Luke has drawn with side walk chalk all over our foundation walls!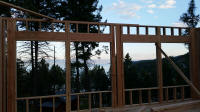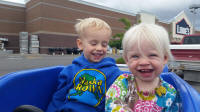 Not a bad view...similar windows to our Alaska house design.
Lots of trips to Lowes for building materials with two clowns.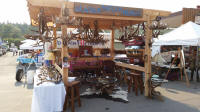 I'm proud of Aaron...beautiful booth at the Bigfork Art Festival!



This girl! She is hilarious!


Beautiful days picking berries...I don't know how I every get anything done with these two around. They are so silly! We have the best times in the woods!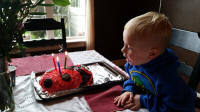 This kid turned 3!!! Happy Birthday Luke!
So blessed by Grandma Grape who lets us visit her on Swan Lake!
Picking the huckleberries still...and having campfires with hotdogs!


Firewood season and more evenings of campfires, hotdogs, and smores!
I love that these kids are outside more than they are in!
...and then it snowed in the higher country...and we loved it!
Thankful for cooler weather and amazing sunsets!

Bears and bullets...Luke is a treasure hunter through and through!!! He loves finding anything in the woods, so we took home a bunch of shotgun shells he found!
Thankful for family! Thankful for cousins and a Grandpa that is the most patient marshmallow roaster!
October 2014
Our backyard is pretty amazing!
Halloween with a cowboy and little Indian girl...
House is closed in!
December 2014
Cold and snow finally!!! We love this time of year!
Excited to see what 2015 brings!