Montana 2013 Summer, Fall, and Winter
It is true....we started another chapter in our lives this summer, well a few actually. We sold our home in Bear Valley, AK, welcomed our baby girl Hannah Bork to the family, and moved back home to Montana all in the course of a month. My last night in our house in Alaska is forever stamped in my mind...so so hard to leave. A friend jokingly told us we are like ping pongs between MT and AK....I wonder what's the most moves a person has done between the two. Aaron and I see ourselves back here sooner than later...First goal is to spend half the year in AK to see if that satisfies our itch.
One thing that is new for Luke...HEAT and sprinklers! It was so hot when we got back to Kalispell, MT. Granted 70 degrees felt hot, but it was 80-90s a lot. Luke is clearly having a great time.
Lakes are new too. Lakes in AK are way to cold to play in for the most part, and having Grandma's around is new too, and I think he likes it. Hannah doesn't seem to mind too much these days!

We live just across from Flathead Lake...endless summer days spent on the beach here in Somers, MT. We bought a 10 year old double chariot, and it's the best investment we've ever made! It makes getting outside with two little ones very doable and enjoyable!
Hannah is growing, and Luke sometimes thinks that she is alright and will try and play with her. It's a dangerous situation every time though. He thinks it is best to steam roll her.
To the WOODS!!!!
I've been missing Alaska terribly...everything about it! Being in the woods is where I'm most at home, so I was so pleased to find we had bunches of huckleberries not far from our home. Huckleberries are delicious.
Luke thinks huckleberries are alright too! He doesn't keep too many though, just picks and eats! His diaper is super fun after days like this! :)
Montana is full of different adventures...family is the biggest change for us. Yeah for cousins...lots of love.



Happy 2nd Birthday Luke!

August 31, 2013
Camping trip in Glacier National Park with my brother and his family. Loving the cooler weather these days!

Hannah is a trooper. She sleeps in her little lamby vibrating chair and pretty much hangs out in there and is content. She get loads of attention from her baby crazy cousin Maggie though!

September 4, 2013
Aaron and I took the kids on our first real woodsy outing. We hiked into the upper Cold Lake near Condon, MT. It isn't a hard hike at all, but felt nice to get out in the wilderness again.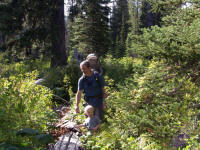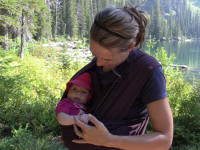 It's prime huckleberry season, so we were on guard but Jarvis was along and he pretty much barks whenever he feels there might be something in the woods. The kids traveled well, but Hannah was a SUPER heater on my front. Luke walked some, but hitched a ride mostly on Aaron's back.
Like I said the Huckleberries were amazing...we didn't bring anything to keep berries in, so we just picked and ate. It was a nice treat.






2013 September 13-15
The calm before the storm...we all decided to meet at Crystal Park, a place we grew up as kids going, and would like to carry on this tradition with our kids too. It was SO peaceful when it was just Grandma Robin, Aaron, and I with the two kids....but then it got fun. We were joined by my brother Rann and family, brother Jeremy, and Uncle John / Aunt Nancy. This is why we came back from AK...to enjoy family adventures, even if they are a bit crazy!
Crystal Park is fun...lots of digging in the dirt treasure hunting for crystals. Luke was more into throwing than digging this year.
It is quite a production. Lots of dirt gets moved when Uncle Jeremy is around and usually lots of crystals are found.

And...we eat good.
Hannah is generally content, just hanging out in her chair.
Luke and Maggie are examining some noodles that Grandma is eating.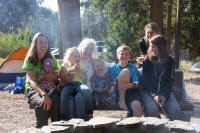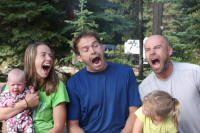 Part of the crew

I don't know why this always happens when I get together with my brothers. Hannah looks clearly concerned.
Luke fits right in with my side of the family...big mouth and all and he thinks this is pretty funny!
September 18, 2013
And then, just like that, life changes! We returned home from our camping trip and I had a sore neck. I just chalked it up to having pulled a muscle, but on the morning of the 18th, I was getting ready for work when my world flipped upside down. I had every symptom of a stroke, but the nurse in me thought I was crazy since I am only 35. Hours later at the hospital I was diagnosed with a Vertebral Artery Dissection. Praise God I was diagnosed and then treated correctly. I spent the next few days in the ICU then moved to the general floor for a week being treated with IV Heparin and oral Coumadin. Any grumbling I had been doing about being in Montana was shushed...I wanted nothing more than to be at home with my children, to be a great mom and wife, and to live my life.
This little guy! Poor Luke is Momma's boy...he didn't see me for a few days when I was in ICU, but once I hit the floor he came to visit...and he didn't care much about me, but loved all the buttons and really loved the elevator.
I stared at this picture for four days...so thankful for the gift of life!
Life didn't return to normal for awhile. I was dizzy, felt like I was walking in a glass ball and the sides of my world kept turning up on me, and I kept having headaches....but I was home! Praise God for the moments in life that challenge us and make us grow and appreciate HIS mercy and grace.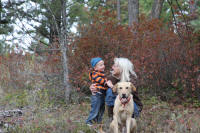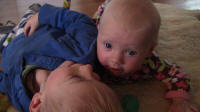 My mom was ever present. This boy sure loves her. In fact he has lots of love to give...starting to love his sister a bit more too.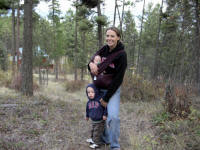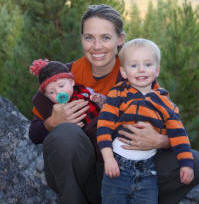 So blessed to be a mother to these two....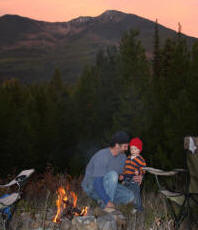 October 5-6,2013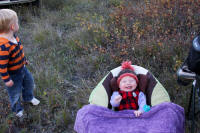 Our first outing since my hospitalization. I'm limited on what I can do, but picking up Hannah is okay. We went down the Swan to cut firewood and "car camp". It was a poor night of sleep, but an adventure regardless. Thankful to be breathing and living life with this family of mine!
Luke loves being in the outdoors, and Hannah is pretty happy if she is sitting in her little chair.

Firewood cutting day! Luke thinks this is pretty cool!
October 22, 2013
I forget how beautiful the Flathead Valley is sometimes when I'm in it, to get above it gives me a fresh view and appreciation for it's beauty.
My ALASKA boy....we found a small patch of snow and of course we had to eat some!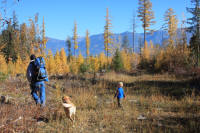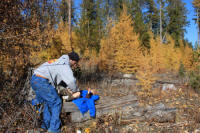 October 25, 2013

Falls days are amazing...so thankful for cooler weather and awesome colors.

Luke is a GREAT explorer...can't wait for him to be potty trained.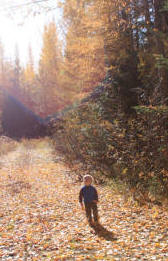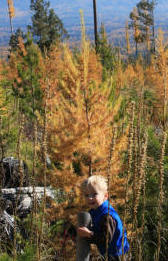 The magic of leaves crunching under feet and blowing out of the trees...
The Tamaracks have changed color and are in full glory!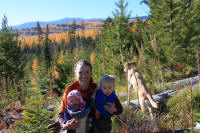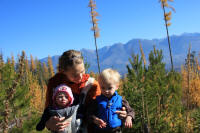 Hannah is really starting to have a personality and shows it with her big smile. She travels pretty good too.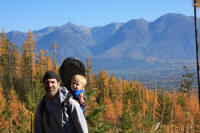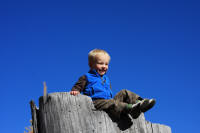 We love the Swan Valley...
October 31, 2013

Luke thought it was hilarious to carve pumpkins. Aaron, the carver, hard at work.


Our hot dog and hamburger...Love spending Halloween in Bigfork, MT.
and then winter comes....sort of!
We miss Alaska so, but it is beautiful here too.
Uncle Adam taking cousins Olander, Tia, and Luke on a spin, literally, in the yard.
The woods are my happy place, especially with this crew. Feels good to get back in the snowing country for some hiking and treasure hunting.

My heart sings packing this heavy weight around sharing my passions with him.

First treasures of the year!
Lucky Lucky Lucky!

Happy Mom and Dad...pretty darn happy kids too!
Our pictures are so different these days...lots of kids and thick trees. I miss the sweeping open mountain landscape of AK, but this will do. There is beauty in everything!


A cold day for finding the perfect Christmas tree....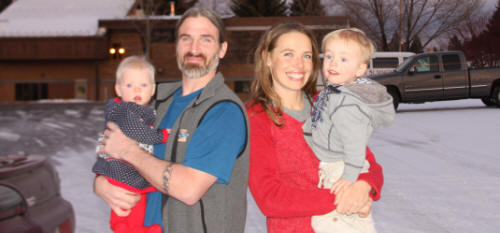 Back to our Adventures Page