Alaska 2013 Winter and Spring Adventures----AND LIFE.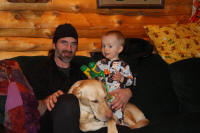 Cabin fever...we get it year round and love going to our cabin whenever we get the chance. Winters are a bit more of a hassle these days with Luke to worry about. 40-45 below is just not an option anymore. We pretty much wouldn't go north unless the low was warmer than 20 below which isn't very often. The hike in has gotten a bit more interesting with kid, plus gear, and food for however many days. It's always super fun once we get it warmed up inside though.

Luke still gets to explore even in winter. He found a dry spot under the cabin to crawl around. We put the blue board up this fall, our floor is much warmer!
Sleepy little boy!

Love our down baby pack....These days never were warmer than 10 degrees, and the picture on the left was taken on a day it didn't get over zero. They sort of look frozen in these pictures though. Aaron gets to pack Luke around these days...I'm carrying two too!
Sweet dogs...The truck is a little cramped when the temperatures dip below -20, we usually let them ride up front with us...Tundra, Luke, Jarvis...
Well the snow keeps falling in Anchorage this year, and we are truly getting cabin fever. The snow is fun, but it is quite a process bundling up this little guy over and over and making sure gloves and boots stay on at all times. We decided to go where we knew there would be less snow, and maybe some dry ground to run on!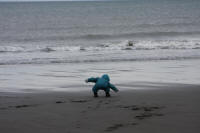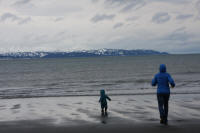 HOMER ALASKA MARCH 2013
Dry ground we found...Love the ocean, love Homer, AK. We managed to go when the weather was pretty crumby, but we still had fun stretching our legs on the beach. Luke has only been walking since October, so he really hasn't experienced dry ground yet.


Luke has yet to figure out what the ocean is though...he learned quickly but had fun while doing it. The beach is a great place to burn off some serious kid energy, and lab energy too!

LOVE LOVE LOVE this little guy and love that Aaron is packing him around these days. We weren't sure how he'd do as he got older but he generally has a great time and has a lot to blabber about in Aaron's ear. If we keep snacks handy, he is pretty content.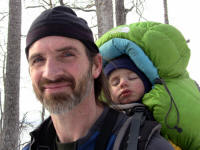 He will talk talk talk....until he passes out. Once he's sleeping, he'll usually stay out for an hour. An hour of peace and quiet, unless we stop! :)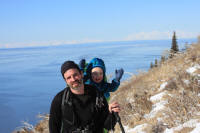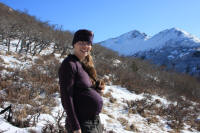 Clearly Luke is having fun...I'm not sure if Aaron is!

I'm packing my own weight these days!
this time we caught the perfect weather. Endless opportunities to explore on the beach under the boardwalks, and endless ways to burn off some serious energy!


What I love about Alaska...You can be in the wildest harshest winter weather in the far north tundra and the next day you can be on a dry beach enjoying the ocean. Homer is a great get away.

This is about as roughing it as we get. We love staying at a specific cabin in Homer. We stayed for our wedding years ago, and come back on occasion when cabin fever hits us in Anchorage.
It only took until mid May to find dry ground this year...the longest recording snow on the ground in Anchorage history. It just kept snowing and snowing this year. Our exploring is a little less exciting these days...I'm a month out from having this little girl, and after a scare of early contractions have been trying to behave, which is incredibly hard for me!
Against medical advice we headed north one more time for one last adventure before our family expanded by one more.
I don't even try and keep up with this little guy anymore...he run, run, runs...

and keeps running, and I just watch. I miss putting the miles on though.
Well since we are increasing in number soon, and it is already a challenge at times to do the things we enjoy we splurged last fall on this handy little machine. We haven't used it much, no nearly enough to justify the cost, but this trip was a hoot. Luke's seat we call the "Luke Launcher"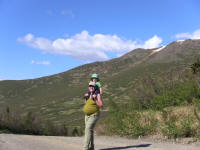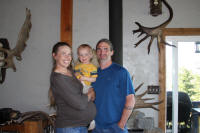 The last day our family was 3...we had a scheduled induction in the AM. 40 weeks + and I was ready to get my hiking legs back. We walked a couple miles to try and start things naturally.
Welcome Hannah Claire Bork!
More weight to pack around the mountains!


June 23....Hannah's first hike. Got to get the girl used to the fresh air, and I was itching to get outside too.
Luke still doesn't know what to think of his sister.
June 27...We went exploring out behind the house. This is our backyard, and it's HUGE. The wild flowers were incredible and so were the bugs! Hannah is quite the heater on these summer hikes.
Luke has no fear, and loves exploring the mountains. Love that his little legs can carry him so many places now.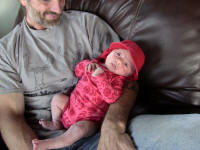 Our traveling baby girl...We're adjusting well to this little one! Now for lots of change soon as we pack up our home and move back home to Montana. Not an easy decision at all!

Last cabin trip for awhile...bitter sweet! So hard to leave a place we LOVE so much. Luke is just starting to be able to explore and enjoy this special place!
Love Love Love this little guy!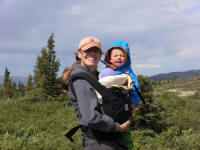 It certainly isn't always roses on these adventures! In fact, it is generally more of a challenge than anything! But the happy moments and memories are worth it in the end!
Really want these two to grow up knowing Alaska cabin life! It is the best life in the world...simple and just awesome!
July 9-10th, 2013
A beautiful weekend to visit Homer with the family before our next big adventure. Homer is one of our favorite places, it's just so far from the interior.
Bare feet boy on a evening beach walk.
What an adventure...Luke's first bare foot walk on the beach, and our first family "car campout" with Hannah who is just 3 weeks old....It was interesting fitting all of us in the back of the truck, but having Hannah's chair made it much easier!
Luke thinks everything is an adventure regardless how small it really is...super fun to share these moments with this little guy!
The amazing vibrating lamby chair...keeps baby happy pretty much anywhere, and offers a comfortable little reclined bed for car camping!
Luke wasn't sure what to think, but as long as we were all together, it was A-ok with him! Late summer nights in Homer, AK.

We slept pretty good...considering and enjoyed a mid morning walk on the beach.
Love this place...
until next time Homer!
Back to our Adventures Page