Alaska Winter Hiking with a Baby 2011-2012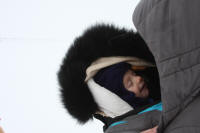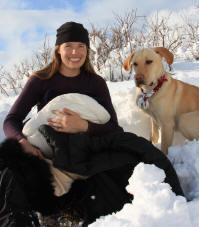 I know I've said it before but, hiking with a small little person that is totally dependent on you is a whole different adventure. Aaron and I have hiked in miserable conditions and never thought much about it...now it is all I think about! Being responsible for someone other than myself, a little someone that can't tell me how he feels, is stressful! However, coming home from a hike with a happy baby and happy mom is one of the most rewarding things. I spent months trying to find information on the internet about successful hiking families with babies. There isn't a whole lot of information, but I did find some bits of truth that were helpful. My biggest fear was of course...how to keep him warm.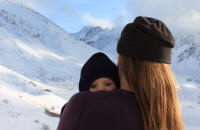 I am writing this as Luke is now a year old. In hindsight hiking was a breeze when Luke was an infant. I carried Luke for the first 9 months in a front carrier, the Ergo, and loved it. When he was tiny I used the newborn insert, which offered some insulation on his backside. Aaron sewed a coyote ruff on the ergo so Luke would have some protection from the wind. I bought an extra large down coat from REI that I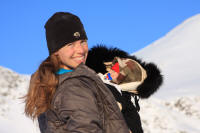 could zip all the way around Luke and I when it was bitter cold. Luke was generally toasty warm since he shared my warmth. I wore only my wool shirt and then had him and the Ergo on. I would wear my light puff jacket over him to cover his legs. Luke was usually dressed in some onesie pajamas and then in a fleece bunting. Our favorite baby gift was a patagonia synchilla bunting. On windy days or when it was bitter cold I would lather Luke's face with vasoline to provide him some protection from wind burn.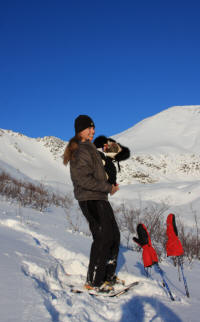 I found that on strenuous hikes I would sweat and worried that the moisture would cool Luke down. I sometimes would slip an extra article of clothing between him and I to keep him from absorbing the moisture.
Hiking with a baby on your front takes some getting used to. Luke was heavy from day one, 9.5lbs. It started getting hard on my back when he was around 18lbs if I hiked for any length of time. It requires learning to trust your feet. I remember scaling some rocky terrain nervously not quite sure where my feet were. I tripped a few times, but got quite good at hiking blindly.
Probably the hardest part about hiking with a baby on your front is when they start screaming in your face. Luke would fuss at times, especially when he was hungry. If it wasn't a good time to stop, I got an earful in close proximity.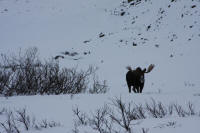 I would change it for the world though. I loved checking in on him on our hikes. Generally he would be sleeping and making sweet moans now and then. Little did he know what magnificent scenery and wild animals he was missing as he slept the day away.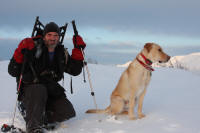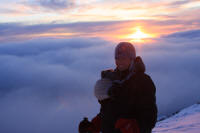 Our coldest day spent hiking was -4 with Luke. He slept most of the time, but woke about 45 minutes from home and insisted his head not be covered. His cheeks were pink when we got home, but the rest of him was toasty warm! Luke was 3 months old on this hike.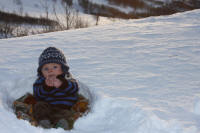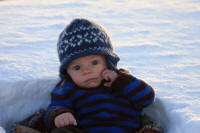 Playing around with Dad...photo shoot in the snow! Priceless....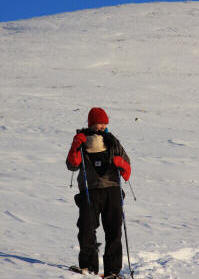 Aaron and I started hiking with Luke a week after he was born. We started slow, just a few miles and then as we grew more comfortable with how Luke traveled, we started increasing our miles and time spent in the field. We hiked through fall so we felt acclimated to the dropping temperatures. We did some practice diaper changes when temperatures were in the 30s and Luke did great! He never has minded cool wipes though.
Ever day wasn't perfect though. There were many days that I wondered if what we were doing was even worth it as he screamed in my face and I struggled to trouble shoot what the problem was. It was usually an easy fix...maybe his eyes were covered, he needed a diaper changed, he was hungry, or just needed a change of position. Starting hiking with an infant, rather than a one year old, is the way to go. It is much easier to hike with an infant in my opinion.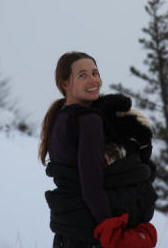 He slept for the majority of the time, and when he was awake he didn't need to be crawling all over exploring.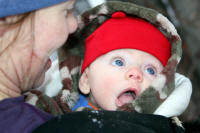 Luke is like a little heater on my front and I found myself overheating a lot. Often I would hike like this, with just my wool top and my big down coat zipped around my midsection to keep his legs enclosed.
What a huge world it is!!! If he wasn't sleeping, there was always something new and interesting to look at. One of my favorite views on any hike!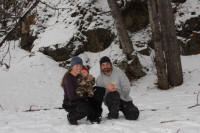 He was pretty happy at the end of this long day of exploring. It's easy to keep a little guy content...warmth, love, mom, and milk! :)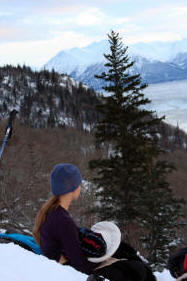 Nursing the is best way to go if you are planning on doing any season of hiking. I never had to worry about a bottle and how to warm milk for Luke. God blessed me with the ability to feed Luke and what a blessing it was! What a gift to sit surrounded by God's immaculate creation and nurse my son!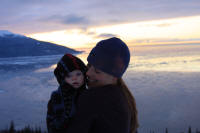 I would typically wrap Luke in his infant insert, or wrap him in my down coat, when I'd nurse him. It was a good chance to check his toes/hands to make sure he was warm enough and make sure his diaper was clean.
I suppose that is another nice thing about hiking with an infant less than 6 months of age...you don't have to worry about packing meals and snacks.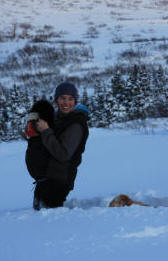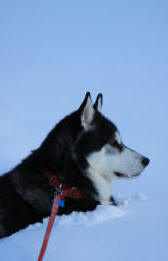 The winter of 2011-2012 was a brutal winter in Alaska. We had a record amount of snow...and it shows! It just kept falling and falling...and eventually made much hiking nearly impossible. It was beautiful though and the dogs had a blast.
The whole state had a fairly snowy winter so ended up staying home more than we normally do. Maybe that was a good thing for Luke; it definitely was for our old malamute Kodi.
Tundra and Jarvis on the other hand enjoyed playing in the powdery snow.
Playing fetch with Jarvis! A great way to test how good his nose is!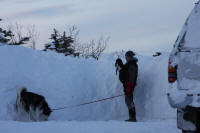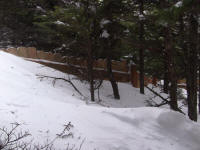 We literally ran out of room to put snow. Our parking area got smaller and smaller as winter continued. The pictures don't even do the mass amounts of snow justice! We almost had to shovel our yard...our fence is 6 feet high and the dogs started walking right over it! We did have to shovel all the way around our fence line to keep the dogs in.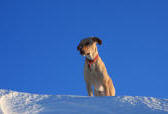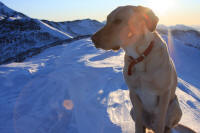 A day for a hike for a dog and his mom! Jarvis and I went in search of a little exercise and we found it. We are so blessed with the Chugach Mountains out our back door. My favorite quick afternoon hike...just above our house. The snow was packed and hard, making for easy hiking. Jarvis is always ready and loves joining me on these trips.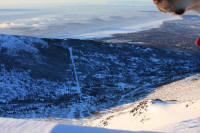 We found a little treasure at the top this time...the hill down was perfect "butt sliding" conditions and slide we did! Jarvis thought it would be great fun to try and bite my feet most of the time! It is always refreshing to catch a little sun before we descend back into the endless shade on the north side of the valley where we live.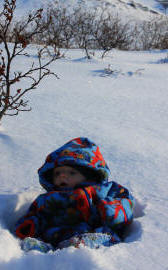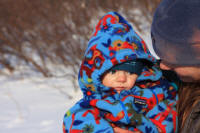 Poor Luke found himself plopped down in the powdery snow...and he didn't make a fuss! He is growing so much and changing daily! What a miracle having children is! Welcome to the white and snowy world Luke!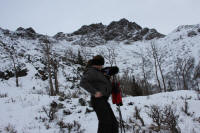 The the furthest we traveled with Luke in the winter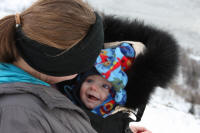 was probably four miles from the road. Eight mile days were very doable with him. On the longer hikes, he needed a little break from the pack at least once.

He was six month old in these pictures...definitely more aware of his surroundings. Love that smile!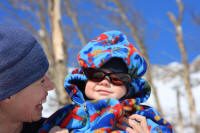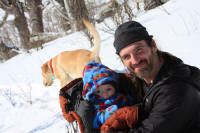 Awe...winter passes every so slowly! It is a treat to have the sun providing some warmth as spring approaches. My big concerns with Luke now were protecting his skin and eyes. He wasn't as happy being covered all the time, so I had to slather him with sunblock and find some baby shades. He didn't mind wearing mine on this bright day!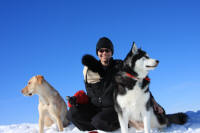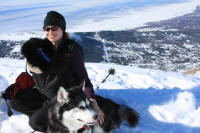 Late winter blessed us with many sunny days...a very welcome break from the constant snow we'd grown weary from. I hiked up this hill MANY times without Luke just for exercise, but this lovely day warranted a family outing...well almost the whole family, old man Kodi had to stay at home. We hiked straight up the basin from our house, a good leg burner for sure. Tundra was exhausted, and well Luke...he just slept through it all! A short brutal hike to some spectacular views! We are blessed beyond a doubt!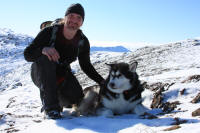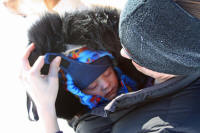 I was talking with my husband the other night about making this webpage for other families wanting to hike with little ones. I was trying to think of all the advice that I was searching for in the beginning, but couldn't find. Trial and error for us! I know that every baby will be different though, but I figure the basics of comfort will be generally the same. Aaron brought up a good point though...in the beginning we were constantly checking Luke to make sure he was breathing.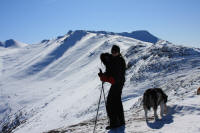 He was covered and tucked in close to me with his head against my chest. Sometimes when he slept his face would fall forward into me and I constantly had to watch to make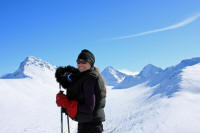 sure I kept his airway free. It wasn't hard, just something to be mindful of. We have a friend here in town that had a friend that accidently smothered her infant while doing similar outdoor activities. This became less of an issue after he was three months old...but I still found myself checking on him regardless.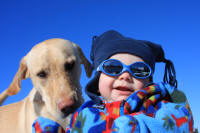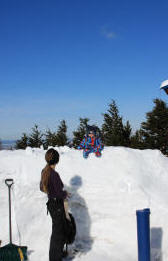 These sunglasses did the trick. They are always right side up, they hug around his head, and he doesn't seem to mind them. We got them at REI. They are the brand Julbo.
I sure hope that as Luke grows up he finds enjoyment in these outdoor activities. The challenge will be to slow down and let him learn to love it. There are so many things we look forward to sharing with him. He seems very happy and calm when he is outdoors. There is so much to explore and experience.
For now I will treasure the wonderful memories we've made in the last year, and hope he is agreeable to going on more adventures in the future. We are looking forward to more trial and error.
I plan on updating the 2012 Outdoor Living page with more adventures and our 2012 Spring Hiking page.